fitness tips
To gain a harmony between body mind and soul we want you to:
Fitness
Fitness
Our fitness is equipped with top and innovative range of cardio and strength training products from Technogym, which offers the highest quality in terms of design, technology and connectivity, allowing users to track their data and access interactive training experiences through the integrated screen.
The variety of exercises and training modes on our two treadmills, two excercise bikes, a crosstrainer and a multifunctional device offer the ability to train all muscle groups, combining ease of use and comfort with the highest level of performance and user engagement.
By training and looking to the green surroundings, you will be aware that you are doing more than just good to yourself.
Sauna

There's nothing quite like a 20-minute sweat session in a sauna. You feel more relaxed and rested after you're done, and the heat helps relieve sore muscles and improves your overall health and well-being. Better sleep, reduced stress, detoxification, weight loss, clean and thighter skin and improved circulation are extra few of the important benefits of using sauna.
Sauna2
And because we want our guests to be healty and relaxed, we are offering you a possibility to gain your well-being in two kinds of sauna: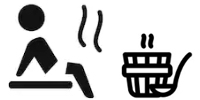 Herbal sauna
Let your stress fade away while breathing in the scented herbal vapour!
Dried herbs like lavender, sage, thyme, mint and lemongrass are infused with water in this soothing sauna, with temperatures of between 65°C and 80°C and humidity of 15% to 20%. The steam in the sauna cabin helps  them unfold the full herbal power and releases the natural herbal flavours. Fresh herbal scents not only have positive effects on well-being, they are also beneficial and relaxing for the respiratory system.
 
Infrared sauna
If the high temperatures of a traditional sauna are too much for you to handle, an infrared sauna may offer the benefits of a sauna without the extreme heat. This sauna operates at lower temperature (usually between 50°C and 65°C), does not heat the air around you, but use infrared lamps to warm your body directly.
Electromagnetic rays are transmitted deep into the body while maintaining a comfortable temperature that does not overheat the skin and respiratory system like traditional saunas. This means that you can enjoy the benefits longer.
Enjoying an infrared sauna until you sweat, as frequently as possible, will enhance detox, while improving weight loss, clearing complexion and strengthening immunity.
 
Relaxation area
Refill yourself with new energy in our relaxation area, where tea, water and fresh fruit is available for you, together with beautiful views over the green fields and forests.
 
Sauna price list

3 hours: 25 €/person
Privat sauna (3 hours) – 2 pax: 90 €
 
Massages

Regular massage helps relieve pain, supports the functioning of the immune system and reduces stress. Soothes, nourishes and relaxes.
Try one of the massages that we prepared for you and pamper yourself under the hands of our experienced masseuse!
GROF MASSAGE WITH GOLDEN OIL
30 min – 29 €
60 min – 49 €
Golden oil contains pure gold in combination with regenerative rosehip oil.

MASSAGE WITH COLD PRESSED HEMP OIL
30 min – 29 €
60 min – 55 €
It affects mental and physical well-being, calms and relieves stress, reduces fatigue, and strengthens the immune system.

FULL BODY RELAXING MASSAGE
30 min – 29 €
60 min – 45 €
Massage has beneficial effect on general well-being and in reducing stress.

SPORTS MASSAGE
50 min – 49 €
Sports massage differs from classical massage in the power of grips and helps to speed up and facilitate the regeneration of muscles and joints.

AYURVEDIC FACE AND SCULP MASSAGE
30 min – 30 €
It eliminates congestion in the flow of energy and has a deep relaxing effect.

REFLEX FOOT MASSAGE
30 min – 30 €
By pressing on individual points on the feet the whole body is relaxed and harmonized.


Kindly check avaliability and reserve your massage at on email hotel@grof.eu or telefon +386 3 70 55 550 or +386 41 30 10 30.
Massage gift certificates are also available for you at the Front Office.